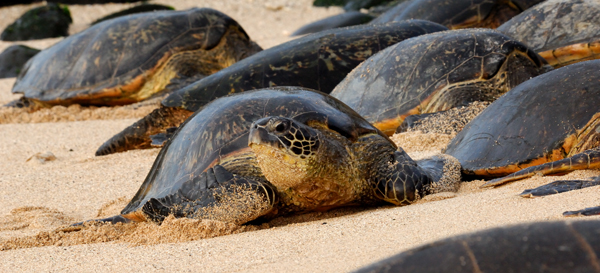 Turtles, turtle, turtles! I've always wanted to see a sea turtle hauled out onto the beach. I had no idea when heading to Maui last month, that I'd get that chance. And there were eighty!  People kept telling us about the beach where we could see them. We'd get vague directions from tourists who hadn't really paid that much attention. Then, lo and behold, there they were, blending in with the rocks. I ran for my camera and plopped down on my knees in the sand, so excited I hit a rock and broke open my knee. I didn't care though. Not right then. There were turtles!
For two hours, I watched as, one by one, they emerged from the bubbling surf and crawled up onto the beach–to rest, sun themselves, no one knows for sure. No where else in the world do adult sea turtles leave the water for anything other than laying eggs. But this particular species in Maui does. And it was an amazing sight to witness. I stayed until the sun was well below the horizon, getting every photo I could in that beautiful light. It was like magic.
If you'd like to follow my posts regularly, sign up for my email newsletter.