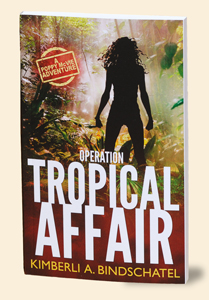 Publisher:

Turning Leaf Books

Available in:

Paperback, Kindle

ISBN:

978-0-9961890-2-6

Published:

March 1, 2015
Own it in Paperback
Own it for Kindle
Listen on Audible
A black market kingpin.
A Costa Rican scandal.
A new agent with a mind of her own.


Poppy McVie wants nothing more than to protect animals. Armed with a shiny new U.S. Wildlife Service badge, she's plucked from training and sent undercover to Costa Rica to play the wife of seasoned Agent Dalton who wants her to look pretty and keep her mouth shut.
Doing some investigating of her own, Poppy connects with a group of animal rights activists and she's soon hot on the trail of the kingpin. With the help of her new van-surfing friends and a one-armed monkey, Poppy plunges into the sordid underworld of black market wildlife trade, facing venomous snakes and deadly rapids. She'll risk her badge—and her life—to exact her own kind of justice. But when Agent Dalton learns what she's been up to, the sparks fly between them and the real trouble begins.
Operation Tropical Affair is a seat-of-your pants read with a mission close to my own heart. Kimberli Bindschatel's passion for the wild world comes through in every well-crafted sentence.  –Paul Doiron, Edgar award nominated author of The Poacher's Son
…a delightful read which introduces the reader to the very serious issue of illegal wildlife trade. While Poppy's approach might be a bit unorthodox, like all our dedicated federal agents, she cares about the wildlife and does her best to take out those who don't. –David Favre, Professor of Property and Animal Law, Michigan State University College of Law
Information on the real world issues:
Wildlife trafficking is estimated at over $20 billion annually and is rivaled only by illegal drugs and weapons in the money it earns criminals. The number of organized crime syndicates profiting from large scale trafficking is mind blowing. Millions of wild animals are captured and slaughtered each year for traditional medicine and aphrodisiacs, exotic pets, souvenirs and religious trinkets.
This cruel holocaust MUST STOP.
If you'd like to learn more and stay informed, please follow my blog, sign up for my newsletter or follow Poppy's rants on Facebook.
If you've read Operation Tropical Affair, please Post a Review on Amazon.com or Goodreads.com
Disclosure: Kimberli A. Bindschatel, author, is a participant in the Amazon Services LLC Associates Program, an affiliate advertising program designed to provide a means for sites to earn advertising fees by advertising and linking to amazon.com.